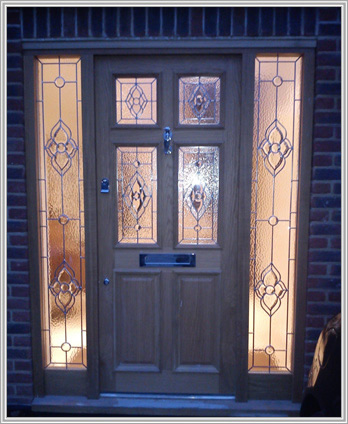 With our custom bevelling service designs are no longer restricted by size or colour. With the availability of lettering & numbers the possibilities are endless.
Bevels are 5mm glass, bonded onto your glass using a UV-TEK adhesive resin that cures under white or ultra violet light making it universally acceptable.
All bevels will be leaded around on the inside & the outside of the glass, whether on a sealed unit or onto single glaze, this will seal in any exposed sharp edges.
We are also now able to offer Seamed bevels. These require no lead surround & have been repolished to remove the rough edges (these would usually be covered with lead)
Colour & texture can be added behind the bevel to give you a unique look, why not add in some hand faceted jewels for that extra sparkle.
Crystal cut, Art deco, Embossed, Jewel & Fusion Bevels are also available. We do NOT bevel any coated glass.