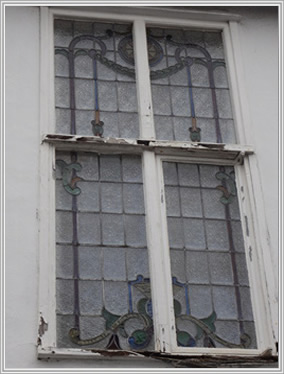 The decision to keep properties original leads is becoming very popular with both customers & installers alike. This is a process that allows the original lead to be encased inside a double glazed unit.
The advantage to this process is no more oxidising or peeling of surface lead, no more draughts, & the added advantage of acoustic insulation. This will also reduce the opportunity of condensation forming & makes the original lead easy to clean.
Please bear in mind that if you choose encapsulation as an option the original glass will need to be made 26mm smaller all around than the double glazed unit required. This may involve cutting the genuine lead down in the width & height. Some patterns will have to be cut down on all four sides to even the pattern out, however some patterns may need one, two or three sides cut back. Please bear in mind that you may lose the flow of the pattern if you have a continuous design.
A new Y section border will be required around the existing lead in most cases for this process, This will give a nice clean edge to the new work weather you require Encapsulated or single glazed.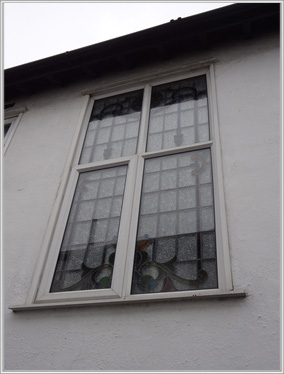 We can also make most patterns bigger with our discontinued matching service or add a new border as a feature.
As this is a hand cleaning process every effort is made to clean up 40 to 80 years of environment or paint & putty build up this is not always possible & may leave the encapsulation looking dirty or dull.
In some cases the genuine glass will be cracked & the lead work may be damaged. We aim to use seamless repair matching wherever possible, although some patterns are now discontinued.
The thinnest Encapsulate we can make up as a DGU is 20mm.= 4 x 6 x 6 x 4.. We do NOT recommend any type of coated glass or gas filling a DGU as the minimum optimum for air cavity is a clear 16mm, although we are happy to comply with your requirements.
We hold stock of Reclaimed Glass panels if you are looking for new pieces, although stock has a quick turnaround. These can be reduced or extended to your size requirements.
We also border customers originals for garden, wall or window hanging projects.
Beautiful Glass by Design works with Woodfield Glazing for all encapsulated, stained glass repairs & genuine lead lite works.