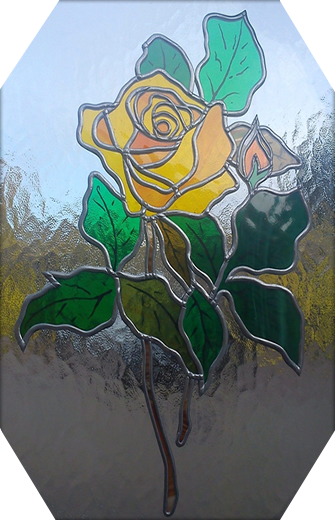 With 35 years experience in design and manufacture of stained glass and a PTLLS Certificate we are now in a position to offer lessons in the modern way of leading.
Please contact us for costs and starting dates of the next sessions.
These will be on a weekly basis and last for 90 minutes per week over a 6 week period. Saturdays 11.00 – 12.30.
Please note that these are in great demand and there are limited places available.
You will be required to bring your own tools starting from the second lesson. You will be provided with details on where to buy these from.
If you have a personal project in mind we can help you work on that otherwise you will follow the course work rota and will end up with your own unique piece of art.
Lead, glass, solder, film and paints used will all be covered in the cost of the lessons. (Unless you want to order in specific glass types for your project)
We sell lead in 10 or 50 meter rolls of 4, 6, 9 and 12mm flat and oval. Any specialist lead can be ordered in for you as well as glass for your projects.
We also sell colour film and textured hobby packs so you may continue with any future projects and will be happy to order items in for you.